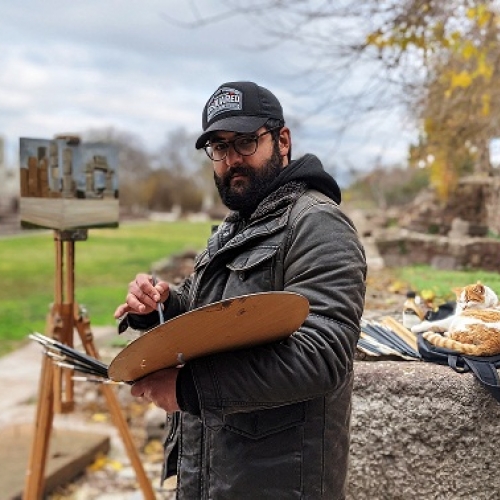 Painting en Plein-air of the most important landmarks in Morocco with Ardıç Aguş
From the 01st until 09th September 2022
I am professional fine artist classically trained in the traditional way.Since i completed my atelier education in Florence, Italy I went on to take several workshops with today's living masters in order to really grasp the techniques of old masters, especially of those of Italian and French 19th century academic painters.
When 19th century academic painters completed their studies they were encouraged by their masters to go out and paint directly from life in order to level up their techniques.
Knowing this, I took up my own challenge and planned a detailed open air painting expedition in Turkey which is a year long travelling with a small campervan, visiting more than 150 ancient sites and historical landmarks doing paintings in the open air and direct studies of the classical ancient world.
Some of my paintings are in the permanent collection of Turkey's most prestigious galleries as well as in many private collectors in Europe and in Turkey.
I use traditional materials and paint in oils.
My methods of teaching is based on the masters of the past. I break down the stages of painting to to a number of principals to be followed in order to design and build a strong work of art.
Why you will love this trip
• With the help of a local guide, you will have the impression of going back in time to the Middle Ages wandering the labyrinthine medina of Ait Ben Haddou, Skoura and Merzouga.
• Take the opportunity to travel through the spectacular red dunes of the Sahara by camel and have an unforgettable sunset experience.
• Djemaa el-Fna Square in Marrakech is a city within the city. Explore one of the largest meeting places in the world, joining the night carni
val atmosphere of fortune tellers, dancers and healers.
•Skoura is a town in Ouarzazate Province, Drâa-Tafilalet, Morocco. Skoura is a fertile oasis lined with immense palm groves. The Kasbah Amerhidil is part of Skoura palm grove alongside more.

Our services

Lodging: Gîte, Kasbah in the heart of the valleys and palm groves Technical support and overall support during all your travels.
Cancellation:
**-In case of withdrawal by a participant within 90 days of commencement of the workshop, the amount already paid will not be refunded.
**-In case of cancellation of the trip by the organisers, a new date will be proposed. Any participant who cannot avail of the new date will be fully refunded of the sum already paid.
**-In the event the organisers cancel the trip with no alternative date proposed, all sums paid by the participant will be fully refunded.