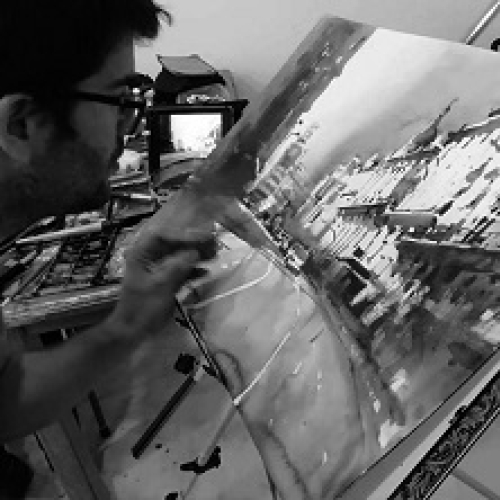 Adrian Marmolejo Clarhed
1st to 09th May 2024
Adrián starts drawing and painting at 7, as a pupil of the Belgian painter Annette Deletaille, who taught him strong bases on perspective and composition that he tries to apply in every work. She also transmitted to him the importance of painting directly from the environment, capturing the feeling and mood of every moment with strength and spontaneity.
He has been part of the group 'Los jóvenespintores de Coín', doing his first solo exhibition at 16 years old in Coín (Malaga), graduating later as an architect in 2016, studying later a masters on 'Investigation and Production of Art'. His works reflects his interests and background, where intricate and liveable urban landscapes are his specialty.
His work is normally figurative, going through a great variety of techniques: starting with pastels, then oils and acrylics and discovering watercolour later, technique that takes the most out of his personality, since everything is visible and there is no comeback. In watercolour, he gives more importance to tone than to colour, since the unity of all elements is vital in a scene. His art could be catalogued as 'new figuration', classical structural basis with contemporary touches. He also works with acrylics and oils, or mixed techniques introducing collage, looking for some more richness.
As a painter, he has been awardedwith almost two hundred national and international prices, both in regular and plein-air contests. He is part of the Andalusian WatercolourSociety.Nowadays, he works fulltime as a painter, combining exhibitions with painting contests and workshops, doing more than 30 exhibitions between individual and group shows.
Among these awards we can highlight the 1st painting award "Ejércitodel Aire 2021", (Madrid, Spain) three acquisition prices at Virgen de las Viñas painting award in 2018, 2019 and 2021 (Tomelloso, Ciudad Real), the 1st prize at the international watercolor award "Gabriel Puig Roda" (Vinaroz, Castellón) , 1st painting prize Eugenio Hermoso, 1st Prize painting award Alfonso Grosso (Seville) in 2019 and 2021, the 1st prize Ateneo of Seville 2019, an acquisition prize in the Timoteo Pérez Rubio Award in Badajoz in 2022, The Bello Piñeiro Award 2023, the 1st prize in the Young Painting award of Granada 2019 and the Maite Spínola painting award in 2022 among others.
He is a member of the Andalusian Watercolor Association and he works with galleries in Granada (Ceferino Navarro), Girona and Figueres with Gallery "El Claustre, in Zamora with "Espacio 36" and in Jaén with "Azur".
Adrián's work have been published in such relevant magazines as "The Art of Watercolor" and his work has been selected for the festival "Fabriano in Acquarello", the annual exhibition of the Royal Watercolor Society in Londonand for the annual international exhibition of the American Watercolor Society in 2022 and 2023.
https://instagram.com/adrianmc_art?igshid=MzRlODBiNWFlZA==
Adrian Marmolejo Clarhed
Mi nuevo estudio:
Calle Profesor Agustín Escribano 16, local 1, 18004 Granada, España
0034/635790537
mail: amclarhed@gmail.com
página web: www.adrianmarmolejo.com
instagram: @adrianmc_art
Facebook: Adrián Marmolejo Clarhed.art
Why you will love this trip
*Essaouira gained UNESCO status thanks to it being a prime example of an 18th-century fortified town. The city walls are an incredible reminder of its past, the medina inside still very much a part of its present. The harbor is chock full of traditional fishermen's boats, and you'll catch them (the fishermen—not the boats) hauling in their catch or mending their nets on the regular. The entire port is ridiculously picturesque, in that gritty, nostalgic kind of way.
*To get into Essaouira's history, carve out ample time in your itinerary to just wander. You likely won't get too lost—the streets are linked in such a way that you're never too far from the main thoroughfare running through its center, the spine of the medina. It stretches from the North Gate, Bab Doukkala, all the way to Place Moulay Hassan, by the waterfront.
*Agafay Ce Reg, a desert of stones and rocks, offers an immense, arid and lunar landscape, illuminated however by an oasis that appears as if from nowhere, it is called the enchanted oasis.

Watercolor Fundamentals

This workshop will focus on the fundamentals of the watercolor medium. It will include methods on how to control basic washes using the white of the paper, how to utilize shape and a full range of values in a painting, and how to get the most out of your brushes. Exercises will be implemented to improve technique in the beautiful liquid fluidity of watercolor pigment. We will spend one week outside painting in plein air. This workshop is open to participants at all skill levels.


For more details on the itinerary of this trip, I invite you to read the document which you will find below in the section "Download and print your registration from".
Terms
Workshop Trip 8 days / 7 nights all inclusive:
This price includes:
- More than 30 hours of lessons spread over 8 days for a maximum group of 15 people
- Airport / Hotel transfers
- (Air-conditioning) 17-seater vehicle with driver
- Official licend tourist guides
- Full board accommodation,

- Tourist taxes to be paid on site
Accompanying Person Trip
8 days / 7 nights
all inclusive:
- Full board accommodation,

- Airport / Hotel transfers
- (Air-conditioning) 17-seater vhicle with driver
- Official licend tourist guides
- Tourist taxes to be paid on site
These prices do not include:
- Roundtrip flights to Marrakech
- Painting equipment
- Single room With supplement 150
$
- Entrance fees to monuments
-On-site purchases.
* Meeting point at Marrakech airport, to reach Essaouira City together by minibus – departure no later than 3:30 p.m.

Our services
Lodging : Riad, guest house. Technical support and overall support during all your travels.
Cancellation:

v-In case of withdrawal by a participant within 90 days of commencement of the workshop, the amount already paid will not be refunded.
v-In case of cancellation of the trip by the organisers, a new date will be proposed. Any participant who cannot avail of the new date will be fully refunded of the sum already paid.
v-In the event the organisers cancel the trip with no alternative date proposed, all sums paid by the participant will be fully refunded.
Gallery Photos :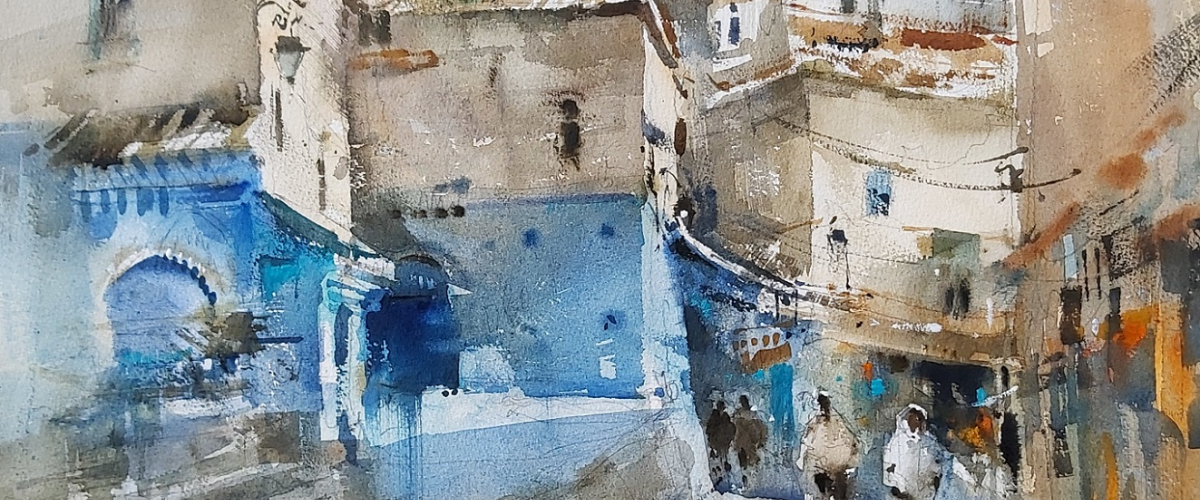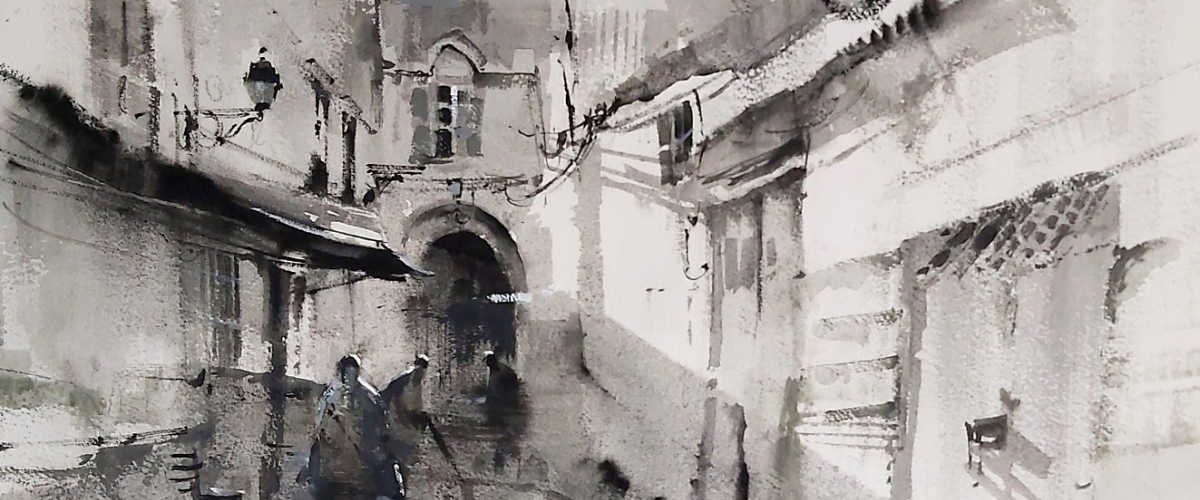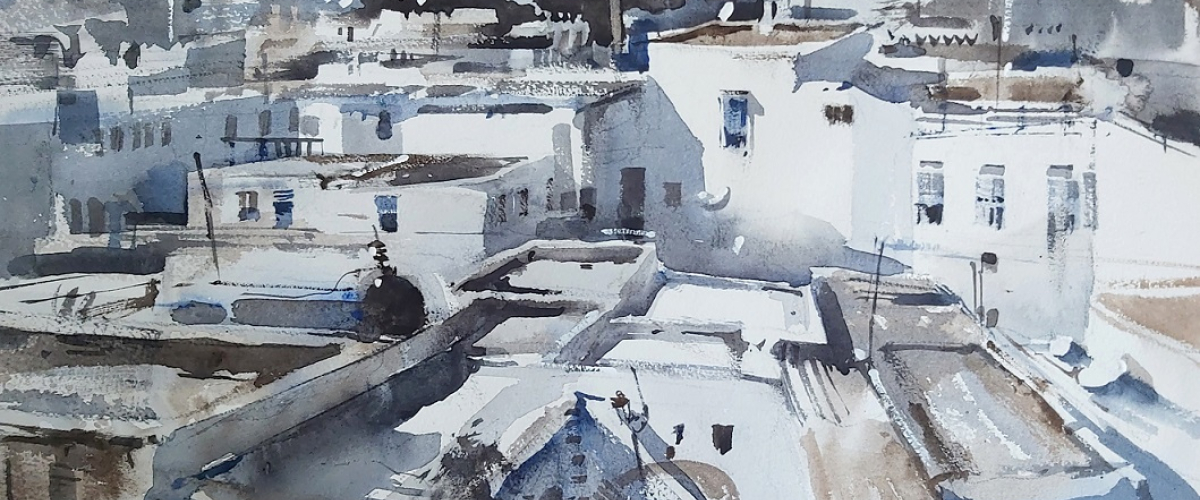 Good To Know
Travelers from the US only are required to have a valid US Passport – but it must NOT be due to expire within 6 months of your return flight.
Your flight destination will be Marrakech Menara International Airport (RAK) / Casablanca Mohammed V International Airport. Royal Air Maroc is the only airline that has direct flights from the US to Morocco, from both JFK and Washington Dulles.
You can also book flights traveling through major European airports, as there are many connecting flights to Marrakech through economy airlines such as Ryan Air, Easyjet, Iberia, etc. We've found that it is easier to find good connecting flights on the way to Marrakech than on the return, but you can take the opportunity to end your trip with a day or two stop in Spain, France, Portugal, England….
Immunizations are not required or necessary but check here for CDC recommendations.
Weather is predictably unpredictable so be sure to check on the estimated conditions the week before you travel. Even though Marrakech can be quite warm by day, it is usually quite cooler at night so pack light clothes that you can layer. We recommend cotton pants, long skirts, wraps or large scarves over tank and tee shirts, and a sweater or light jacket for chilly nights.
Your most important fashion asset: comfortable shoes for traversing the Medina on sightseeing and shopping adventures!
Morocco is a Muslim country and women generally dress more modestly than in the US or Europe. Like elsewhere, dress codes are gradually becoming more lax and there is a lot of tolerance for tourists, but wearing clothing that covers your best "assets", and that your grandmother would approve of, shows cultural respect, good taste, and common sense.
The currency here is the Moroccan Dirham, and the exchange rate usually hovers these days around 10 Dirhams/1 Dollar. You CANNOT exchange for Dirhams outside of Morocco, but there are several currency exchange booths in the airport when you exit Passport Control and also located all around the Medina. Larger stores and restaurants may take Euros, but it's really best to have dirhams.
If you bring large bills ($100) to exchange be sure that they are newer bills with holograms. Otherwise they will slide them back to you with a shake of their head.
Another good option for padding your wallet with dirhams is to use the ATM machines which are located around the medina. The exchange rate is a little better, especially if your bank or credit card doesn't add foreign transaction fees (some homework for you). Be sure to notify your bank of your foreign travel destination so they don't flag you for fraud. I also recommend that you bring 2 or 3 cards-just in case you still get flagged (happens!) and find too many things you just can't live without.
Free Wifi access in all rooms and common areas
Bedside Mineral Water
Hair Dryers
One-time complimentary laundry service for retreat weeks
Extra items you should pack:
There is no comment at the moment ...