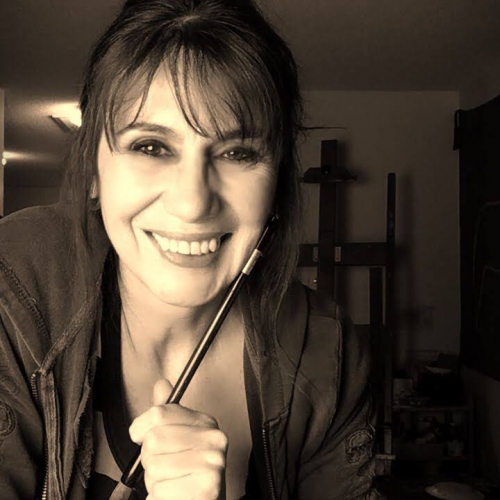 Lyudmila Tomova Watercolor Workshop in Morocco
----------------------------
Discover the beauty of painting expressive, powerful and loose landscapes inwatercolor. Explore the full capacity of the medium and learn the fundamentals of creating a breathtaking masterpiece! Lyudmila will teach loosening brushwork, elements of design, light and shadow, the power of suggestion and finally painting how you see versus just copying what is in front of them.
This workshop is designed for artists who are eager to paint expressively and loosely using watercolor with confidence. Students will be exploring the possibilities and beauty of creating dynamic works of art and gain mastery in using the medium freely and spontaneously. Lyudmila will introduce the secrets of her unique expressive style and help students develop their own in their effort to show mood, movement and emotion in their work. The focus will be on different techniques, basic principles of good composition, values, color palette and focal point as the foundation of creating powerful work.
Lyudmila will be giving a quick 45 min demo daily going over the fundamentals and main topic of the day - discussing materials, composition, values, techniques and color palettes. After the demo, she will give individual instruction and guidance to every studentand encourage a group critique at the end of the day.
This workshop will teach artists to see the world around them in a new light while learning to create their own nature-inspired art.
Lyudmila Tomovais an award-winning artist, well recognizednationally and internationally for her unique impressionist style. Currently, she paints figures, portraits, murals and landscapes in oil, watercolor and acrylic. Originally from Sofia, Bulgaria, Lyudmila immigrated to the US in 1990 and lived in New York City working as a full-time painter, editorial illustrator and designer, exhibiting nationally and abroad. Her strong education in Classical realism from the Sofia's Academy of Fine Arts and later from FIT in New York where she earned a BFA degreein Illustration, as well as her diverse artistic experience has established her as one of the most versatile and prolific artists in the Triangle. Lyudmila resides in Cary and teaches watercolor, oil, acrylic and drawing workshop in various locations in North Carolina. In her art instructions, she helps students master the foundations of classical art and develop their own style.
"In my work I merge abstract and realistic elements together to create mood, movement and an impression of the world around and within us. My brush strokes are moving, pushing, emerging and overwhelming, but never still and quiet. In my recent work I paintalla prima style adding spontaneity, boldness and elegance all at once. I paint loosely telling magical stories and evoking complex emotions."
Contact T: 917-601-7051 | www.tomovafineart.com | email: lyudmilatomova@gmail.com
Why you will love this trip
• With the help of a local guide, you will have the impression of going back in time to the Middle Ages wandering the labyrinthine medina of Ait Ben Haddou, Skoura and Merzouga.
• Take the opportunity to travel through the spectacular red dunes of the Sahara by camel and have an unforgettable sunset experience.
• Djemaa el-Fna Square in Marrakech is a city within the city. Explore one of the largest meeting places in the world, joining the night carnival atmosphere of fortune tellers, dancers and healers.
•Skoura is a town in Ouarzazate Province, Drâa-Tafilalet, Morocco. Skoura is a fertile oasis lined with immense palm groves. The Kasbah Amerhidil is part of Skoura palm grove alongside more.

Our services

Lodging: Gîte, Kasbah in the heart of the valleys and palm groves Technical support and overall support during all your travels.
Lyudmila TomovaWatercolor Class
Recommended Supplies
1. Paper:Artists should bring their favorite paper and size. I'd recommend 12 x 18" Canson or Strathmore watercolor pad. Other great paper isArches orFabriano - cold press 140 or 300lb cut to half-sheet size 15 x 22". Rough watercolor paper will add texture to your washes and hot press paper, with its very slick surface, tends to make colors appear brighter, so they will also be easier to lift off. Cold press paper is somewhat in between rough and hot press. I personally prefer cold press.
2. Plein Air Easel for watercolor: Any brand of plein air easels that can have your surface secured flat or at an angle.
3. Board: It's also good have the same or slightly larger size board (masonite) to attach your paper with masking tape. Taping your paper will prevent buckling if the paper is lighter weight and it will add a nice border to your panting after it's taken off.
4. Paint: Any brand you like would be OK as long as you have the basic set of colors. I prefer tubes, because you can get as much paint as you want for larger areas.
5. Masking fluid – In order to preserve our whites on the paper, sometime we use masking fluid
6. Palette: make sure you have a flat area to mix your colors
7. Brushes: You need at least 3 – all of them soft with a point - large, medium and small for details. You can add a bigger flat one if you'd like, but basically you can do everything with the three round and pointy.
8. Rag: Lastly, we need a rag – any cotton fabric should be good. Paper towel could work too, but is not as absorbent as a cloth.
Terms
Workshop Trip 9 days / 8 nights all inclusive:
This price includes:
- More than 40 hours of lessons spread over 9 days for a maximum group of 15 people
- Airport / Hotel transfers
- (air-conditioning) 17-seater vehicle with driver
- official licend tourist guides
- Full board accommodation, single room & double room for couples (all rooms have a private bathroom)
- Tourist taxes to be paid on site
- Cocktails / henna party
-Traditional hamam
Accompanying Person Trip 9 days / 8 nights all inclusive:

- Full board accommodation, single room & double room for couples (all rooms have a private bathroom)
- Airport / Hotel transfers
- (air-conditioning) 17-seater vhicle with driver
- official licend tourist guides
- Tourist taxes to be paid on site
- Cocktails / henna party
-Traditional hamam
These prices do not include:

- Roundtrip flights to Marrakech
- Painting equipment
- Entrance fees to monuments
- On-site purchases.
Cancellation:
√-In case of withdrawal by a participant within 90 days of commencement of the workshop, the amount already paid will not be refunded.
√-In case of cancellation of the trip by the organisers, a new date will be proposed. Any participant who cannot avail of the new date will be fully refunded of the sum already paid.
√-In the event the organisers cancel the trip with no alternative date proposed, all sums paid by the participant will be fully refunded.