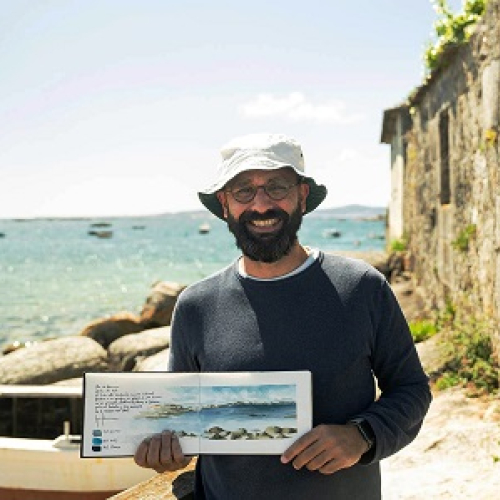 Workshop de acuarela al sur de Marruecos con Nacho Muñoz Cano
11- 18 de Abril 2022
Nacho Muñoz Cano ( Murcia, Spain, 1974)
Inicia su formación artística a los 9 años. Casi toda su obra es acuarela, técnica de la que siempre se ha sentido muy atraído por su transparencia, instantaneidad, el detalle y la sutil percepción de una realidad casi imperceptible.
Su pintura de basa en el entorno que le rodea y, reflejo de ello, vemos presente en muchos de sus cuadros la huerta Murciana. Explora en la naturaleza y, deteniéndose en detalles frutales de limoneros, higueras… o en rincones que le despiertan un especial interés, trata de buscar a través de tiernas veladuras ese instante preciso, esa luz que se cuela por el lienzo y que abraza al espectador hasta atraparlo.
Nacho Muñoz nos propone un encuentro con esas luces, sombras, texturas, colores y sensaciones que habitan entre el lienzo, su mirada y ese extraño lugar desde donde surge el instante creativo.
---------------------------------------------------------------------
Descubre la riqueza del sur de Marruecos; dunas de arena, mesetas y oasis. Desde Marrakech, cruzas el Alto Atlas, desciendes al valle de Daraa, cruzas la gran zagoura y el desierto de Mhamid. Además, descubrirá toda la riqueza de la región de Zagora: la ciudad del escenario para las caravanas que cruzaron el Sahara para traer de vuelta la preciosa sal, oro y marfil de Tombuctú. Bajo palmeras, árboles frutales y cultivos, una multitud de pueblos y suntuosa kasbah están disponibles para usted. Saldrás de Zagora a través del valle de Drâa por la carretera que conduce a Ouarzazate, y desde allí se unirá a la perla del sur: Marrakech.

TE ENCANTA
La degustación de platos bereberes acompañada de té de menta
- La caminata en la parte trasera de los camellos en las dunas
- La noche en un campamento a los pies de las dunas de Erg Chebbi
- Visitar la antigua biblioteca coránica y talleres de cerámica en la región de Tamgroute - Almuerzo y descubrimiento de la kasbah de Ait Ben Haddou, joya de la UNESCO
- Los oasis de Telouet y las gargantas (Dades y Toudgha)
- Visitando el zoco de Boughafe, las ruinas de Sijilmassa y los oasis de Zagora
- Visita gratuita a la ciudad de Zagora
- La visita al mercado de Djemaa el Fna en Marrakech.
MATELIALES:
- Acuarelas
- Cuaderno de papel para acuarela mínimo 200 gr.
- Pinceles
- Bote para el agua
- Papel secante o servilleta.
Servicios incluidos :
Vehículo privado de lujo con aire acondicionado y combustible para todo el viaje.

Conductor-guía (en inglés).

Alojamiento en hoteles, Riads, casa de huéspedes (habitaciones con baño y aire acondicionado) + pensión completa

Camel Trek a toda la noche en nómada campamento desértico con guía (carpas privadas)

Varias paradas para tomar fotos, tomar café y W.C

Explorando Kasbah, Oasis y Valles
Estos precios no incluyen:
- Vuelos de ida y vuelta a Marrakech
- Consumo alcohólico o no alcohólico tomado durante las comidas
- El suplemento para una habitación individual.
- El precio de visita de ciertos monumentos,
- Equipo de pintura (se le proporcionará la lista completa de suministros durante el registro final).
- Compras en el sitio.
Gallery Photos :
Good To Know
Travelers from the US only are required to have a valid US Passport – but it must NOT be due to expire within 6 months of your return flight.
Your flight destination will be Marrakech Menara International Airport (RAK) / Casablanca Mohammed V International Airport. Royal Air Maroc is the only airline that has direct flights from the US to Morocco, from both JFK and Washington Dulles.
You can also book flights traveling through major European airports, as there are many connecting flights to Marrakech through economy airlines such as Ryan Air, Easyjet, Iberia, etc. We've found that it is easier to find good connecting flights on the way to Marrakech than on the return, but you can take the opportunity to end your trip with a day or two stop in Spain, France, Portugal, England….
Immunizations are not required or necessary but check here for CDC recommendations.
Weather is predictably unpredictable so be sure to check on the estimated conditions the week before you travel. Even though Marrakech can be quite warm by day, it is usually quite cooler at night so pack light clothes that you can layer. We recommend cotton pants, long skirts, wraps or large scarves over tank and tee shirts, and a sweater or light jacket for chilly nights.
Your most important fashion asset: comfortable shoes for traversing the Medina on sightseeing and shopping adventures!
Morocco is a Muslim country and women generally dress more modestly than in the US or Europe. Like elsewhere, dress codes are gradually becoming more lax and there is a lot of tolerance for tourists, but wearing clothing that covers your best "assets", and that your grandmother would approve of, shows cultural respect, good taste, and common sense.
The currency here is the Moroccan Dirham, and the exchange rate usually hovers these days around 10 Dirhams/1 Dollar. You CANNOT exchange for Dirhams outside of Morocco, but there are several currency exchange booths in the airport when you exit Passport Control and also located all around the Medina. Larger stores and restaurants may take Euros, but it's really best to have dirhams.
If you bring large bills ($100) to exchange be sure that they are newer bills with holograms. Otherwise they will slide them back to you with a shake of their head.
Another good option for padding your wallet with dirhams is to use the ATM machines which are located around the medina. The exchange rate is a little better, especially if your bank or credit card doesn't add foreign transaction fees (some homework for you). Be sure to notify your bank of your foreign travel destination so they don't flag you for fraud. I also recommend that you bring 2 or 3 cards-just in case you still get flagged (happens!) and find too many things you just can't live without.
Free Wifi access in all rooms and common areas
Bedside Mineral Water
Hair Dryers
One-time complimentary laundry service for retreat weeks
Extra items you should pack:
There is no comment at the moment ...